OpenOakland's 5th annual National Day of Civic Hacking
took place on Saturday, Sept. 23, 2017.
On September 23rd, thousands of people from across the United States will come together for National Day of Civic Hacking (NDoCH).  It is an annual day of action to convene civic hackers, government staff, developers, community organizers, coders, bureaucrats, data scientists, journalists, user experience designers and anyone with the passion to make our city services better.
We will collaboratively build new solutions using publicly-released data, technology, and design processes to improve our communities and the governments that serve them.
This year, for our 5th National Day of Civic Hacking, OpenOakland, in collaboration with the City of Oakland Digital Services team, will hold the City's first inaugural Design-A-Thon!   Together with input, leadership and participation from the City's Digital Services and other departments, through user experience sessions, we will identify ways to improve City services.  Our goal is to enhance Oaklanders' user satisfaction by improving the accessibility, usability and pleasure provided in the interaction of local government services.  Our aim is to create a more effective and equitable technology ecosystem for everyone.
We will also provide space for all Oaklanders to learn more about Civic Engagement, OpenOakland and our current projects.  This year's CityCamp: Your City, Your Voice! and Fostering Equity in Oakland events attracted dozens of new folks and projects including a Diversity, Inclusion and Trust, Oakland Marijuana Equity Program and Councilmatic (Search and browse your local bills, representatives, and events) projects.
We welcome you and your ideas.  Please come share them with us.  Newcomers to OpenOakland and Civic Hacking welcome!
---
Date:  Saturday, September 23, 2017.  9:00am – 1:30pm
Location:  Oakland City Hall. Hearing Rooms 3 and 4
---
Day's Schedule
Note: All activities will be in Hearing Room 4 unless otherwise noted
9:00am Register. Connect. Enjoy Coffee and Pastries. Name tags
9:30am Welcome. Overview of Day. Q&A
9:45am Introduction to Civic Hacking/Design. Overview of some OO and CfA Projects.
10:00am Tom Dooner presents his 2017 Code for America Fellow Project: Case Companion
Tom is a long-time member of OpenOakland and a civic technology enthusiast. He is a current Code for America fellow working with Multnomah County, Oregon to develop a service which connects victims of crime with information and resources available for them. He also works on OpenOakland's campaign finance visualization project, OpenDisclosure.
10:15am Activities:
Design-A-Thon: City Services design thinking session
Quiet space to talk/learn about and work on OpenOakland projects (Room 3)
12:15pm Enjoy lunch. Wrap up: Outcomes, report outs and next steps!
1:15pm End of NDoCH 2017: Oakland Edition. Thank you for coming and your service.
1:30pm Everyone leaves happy 🙂
---
Review our Code of Conduct and make the personal pledge to provide a safe space free from discrimination and harassment.
---
We want to acknowledge the generosity of our sponsors: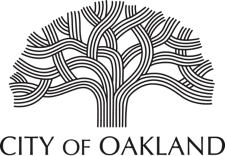 ---